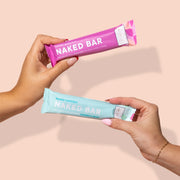 This may just be the best protein bar on the market...
Nov 02, 2023
Are you looking for a clean, high protein snack with fibre, minerals & superfoods? Then look no further than Naked Harvest's Naked Bars! 
Naked Bars are a delicious & guilt-free indulgence for those 3pm cravings. With their minimal sugar and generous fibre content, they offer the perfect balance between health and satisfaction. These bars have quickly become the ultimate choice for your sweet cravings and an on-the-go protein fix. Discover the delightful flavours of our protein and collagen-rich Naked Bar, featuring top-tier plant protein for a truly fulfilling snack.
Let's delve into the ingredients...
Naked Harvest Thrive Protein
Naked Bars have been formulated with the Thrive Plant Protein you know and love. The Double Choc Fudge Flavour features our delicious Chocolate Swirl THRIVE Plant Protein to provide 14g of protein per bar, whilst the Cookies & Cream flavour contains the Cookies & Cream THRIVE Plant Protein to provide 16.99g of protein. 
Collagen 
Naked Bars also more than just a protein-packed tasty treat; they're infused with skin-loving collagen. Collagen is a protein that's often celebrated for its role in promoting healthier hair, skin, and nails. Collagen helps maintain skin hydration, reduce the appearance of fine lines, and keeps your skin looking youthful and vibrant. Your hair will thank you too, as collagen promotes stronger, shinier locks while preventing issues like hair thinning and breakage. Additionally, your nails will benefit from the collagen boost, becoming stronger and less prone to brittleness. Beyond its beauty benefits, collagen can also enhance joint health by improving flexibility and reducing joint pain. The next time you reach for a Naked Bar, you're not just snacking; you're nurturing your skin, hair, and nails for a healthier, more radiant you.
Chicory Root
Chicory root is a soluble fibre that contains inulin, a prebiotic fibre that can feed the good bacteria in your gut. Research has linked chicory root to many health benefits, including healthy digestion as well as cholesterol and blood sugar control. Chicory root fibre can also improve satiety which can help tide you over to your next meal. 
Cashew butter
Cashew butter provides a source of healthy fats and adds a delicious creaminess. Packed with monounsaturated and polyunsaturated fats, it promotes heart health, aids nutrient absorption, and provides sustained energy. 
Almonds
Both flavours of the Naked Bars contain almonds for some added healthy crunch. 
Healthy Flavourings
Sugar free cookie crumbs, natural vanilla extract & vegan dark chocolate are also featured in Naked Bars to help make these bars not only nutritious, but delicious as well.
Unlike many other protein bars on the market that contain a very long ingredients list with words you can't pronounce, the Naked Bars contain nothing artificial or any added nasties like preservatives and fillers.