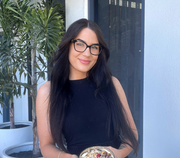 Let's Chat THRIVE Plant Protein!
Nov 10, 2022
In the health and fitness industry, the word protein is thrown around a lot, but what actually is protein and what is it good for? We chatted to our NH in-house nutritionist to get all the facts & talk about how she uses protein day to day! 
WHAT IS PROTEIN?
Protein is considered a macronutrient, meaning it is required by the body in large amounts. Protein is made up of amino acids that link together in different combinations, which are required for the healthy functioning of every cell in the body.
WHY DO WE NEED PROTEIN?
We all know protein is important for muscle growth, but it actually does so much more! We also need protein for our hormones, metabolism, satiety, blood sugar regulation, and for making neurotransmitters (your body's chemical messengers) and enzymes. So as you can see, it really is important! As a women's health nutritionist, protein is one macronutrient I really see most women not getting enough of.
HOW MUCH PROTEIN DO I NEED?
According to eatforhealth.gov.au, women need around 46 grams of protein per day. However, this amount increases during pregnancy, lactation and according to your exercise levels and health goals.
If your goal is to build muscle mass, along with your strength training routine, you need around 2 grams of protein per kilogram of bodyweight. So if you weigh 60kg, you will need 120g of protein per day.


SO, HOW CAN YOU MAKE SURE YOU'RE GETTING ENOUGH PROTEIN?
Build your meals around protein:
Aim to have a protein source at every main meal. Then add your vegetables, fats and carbohydrates. 
For example, a day with adequate protein at meal times would look like: a protein smoothie for breakfast, a chicken salad at lunch, and a beef stir fry at dinner. 
Snack on protein rich foods:
Top up your protein intake for the day by snacking on protein rich foods. For example, boiled eggs, tasty cheese on crackers, peanut butter with apple slices, homemade protein balls, greek yoghurt with fruit, a handful of nuts, a protein smoothie, cottage cheese with carrot sticks
Eat your protein first before the rest of your plate:
Sometimes we have eyes bigger than our stomach, and if you struggle to get your protein in, this can be a problem if you are eating the foods on the rest of your plate before the protein. To combat this, aim to eat your protein first.  
Always try to include a protein source in your breakfast. And if you're not a breakfast person, or struggle to eat early in the morning, a simple protein shake with protein powder and your choice of milk is an easy option.
WHY IS PROTEIN IMPORTANT IN BREAKFAST?
If you want to feel energised, satisfied and strong for the day ahead - you need a breakfast that is high in protein!  
Trying to stay on track with your nutrition goals? Eating a breakfast high in protein can reduce cravings and make you less likely to overindulge on sugary snacks during the rest of the day. Our NH THRIVE Protein not only helps you to meet your daily protein target, but it also supports energy production, mental performance and digestion - making it the perfect addition to your breakfast.
Check out what Bree, our NH in-house nutritionist has been having for breakfast lately - the Banana Split Breakfast Bowl.
HERE'S WHAT YOU'LL NEED:
1 cup of Natural or Coconut yoghurt
1 serve of NH Banana Split THRIVE Plant Protein
½ cup of granola
1 fresh banana, sliced
1 tablespoon of natural peanut butter
Top with fresh raspberries or fruit of your choice
HERE'S HOW TO MAKE IT:
First mix yoghurt and and protein in a bowl

Layer granola on top and then sliced banana 

Then drizzle on the peanut butter and top with raspberries. Enjoy!
Click here to watch how to make this recipe!
Our NH Thrive Plant Protein contains no refined sugar, and is gluten-free for our GF girls, plus is vegan so our plant-based girls aren't missing out. 
Check out our THRIVE Plant Protein range here.