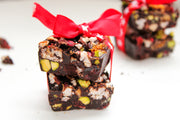 5 ways to use Naked Harvest Supplements this Christmas to stay healthy & happy!
Dec 17, 2020
Christmas is near #NHgang! A busy time of year. But have not fear, @betterbeingsteph has 5 ways to spread some cheer! 
1. Healthy, high protein snacks
Keep your freezer full of some healthy, high protein snacks for when you're short on time. There's no excuses not to treat yourself well this festive season! Here's two of my favourite meal-prep & freezer friendly recipes using the limited edition Christmas Cinnamon Cookie Thrive protein:
Christmas Cinnamon Cookie Fudge
Christmas Quest Bars
2. Boost your energy & mood with a natural Pre-workout
Use the all natural Pre-workout to keep you motivated to stay active & energised despite the busy period! The new Candy Cane Pre-workout will give you a festively refreshing pick-me-up in no time so you can give your workouts & your time with your loved ones all the energy they deserve!
3. Bake wholesome edible gifts
Bake your loved ones a batch of wholesome edible gifts using the THRIVE protein for some added goodness - because there's nothing better than giving your friends & family a treat that's just as enjoyable for their soul & as it is for their wellbeing! Plus, the THRIVE protein is gluten free & vegan with no added nasties - so it's bound to suit any dietary preferences your loved ones may have! Here's one of my go-to recipes to wrap up in cellophane & give as a gift:
4. Christmas Day Breakfast 
Whip up a satiating & delicious Christmas Day Breakfast using the THRIVE protein. Starting your day with a protein-rich meal will give your body the sustenance it needs for a busy day ahead, and will prevent you from overeating later on. You can add a serve of any of the THRIVE protein flavours to your pancakes, smoothies, oats or mix throughout yoghurt with some fruit on Christmas morning.
5. Relax, Recharge & Recover 
Recharge your batteries with an evening Moon Mylk that will drift you off to a restful sleep. Making sure you prioritise your sleep despite changes in your routine & some inevitable late nights will truly keep you feeling your best over the silly season. Add a drop of peppermint extract to soothe your belly after some Christmas indulgences and to make it more festive, or enjoy the Mylk just as it is as a calming hot chocolate.