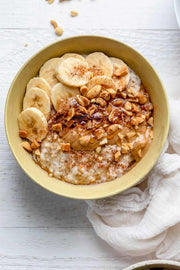 Why You Should NEVER Skip Breakfast...
Sep 22, 2023
For many women, a busy lifestyle means rushing in the morning which unfortunately also means skipping breakfast. Although this habit becomes "normal", this doesn't mean it is the best for us! Including a healthy nutritious breakfast daily can make a big difference to your health. Breakfast literally means "breaking the fast" – the overnight period when our bodies go without food. This is important, as it helps provide the energy needed to tackle the day's demands, both physical and mental.
Skipping breakfast over long periods of time can have various effects on your body from disrupting hormonal balance to nutrient deficiencies. Skipping breakfast can also lead to a wide range of health problems including increased susceptibility to obesity and diabetes.
In the short term, skipping breakfast can affect your brain function and blood sugar for the day ahead. 
What are the benefits of breakfast?
Eating breakfast, especially one that is rich in protein, can increase satiety throughout the day and reduce cravings for sugary and processed foods. Sticking to a regular meal pattern, including breakfast, with a shorter duration between meals helps prevent overeating, reduces stress & fatigue, and improves circadian rhythm.
When is the best time to have breakfast?
The best time to have breakfast is within two hours of waking up. If you workout in the morning, it's best to have a light snack such as a banana or rice cakes prior. Exercising whilst fasted is okay, as long as you refuel adequately after your session. 
How to make time for breakfast
Busy morning schedules, early starts and long travel times mean many of us don't prioritise making time to sit down to breakfast before leaving the house. But because breakfast is so important, let me share some ideas on how you can start incorporating breakfast without making late:
Wake up 10-15 minutes earlier to give yourself extra time to fit breakfast in 

Prepare some quick and healthy breakfast foods the night before or on the weekend that can just be pulled out of the fridge and eaten, such as mini quiche bites, breakfast burritos, or overnight protein oats. 

Keep some breakfast foods at work (if allowed) to enjoy once you arrive.

A healthy breakfast > Instagram. Swap out any time-wasting habits in the morning (such as checking your emails or scrolling social media) and use this time for breakfast instead.
When the thought of eating in the morning gives you the "ick"...
I often hear people say "I just don't feel like food in the morning" or "the thought of food in the morning makes me feel sick".
If you find it hard to eat first thing in the morning, here are some things you can try:
Eat smaller sized dinners so you are hungry in the morning.

Eat dinner earlier, and stop late night snack so that you are hungry in the morning

Try a new breakfast foods that excite you! Protein oats seem boring? What about protein pancakes with yoghurt or berries? Sick of sweet breakfasts? Swap to savoury!

If you don't like breakfast foods, then break the invisible rules and eat a meal you would normally associate with lunch or dinner.
In conclusion, breakfast isn't just another meal; it's a cornerstone of women's health. Say it with me: "healthy girls don't skip breakfast!"