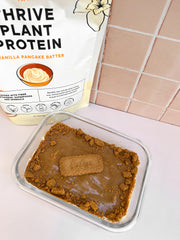 Overnight Protein Biscoff Weet-Bix
Mar 30, 2023
Start the day right with this amazing overnight protein Biscoff Weet-Bix recipe that's not only delicious, but protein-packed thanks to our THRIVE Vanilla Pancake Batter Plant Protein! Packed with nutrients like fibre, vitamins, and minerals, this recipe is the perfect way to fuel your body and boost your energy levels all day long. There's no cooking or stovetop required - just mix & bake!
Here's what you will need:
4 Weet-Bix (can sub for oats)

1/2 cup milk of choice
1 cup of yoghurt of choice
1 tbsp melted Biscoff for topping
2 Biscoff biscuits for topping
Here's how to make it:
Combine the Weet-Bix and milk in a glass container

Combine yoghurt & protein powder in a bowl 

Spread yoghurt mix on top of weetbix

Melt biscoff in the microwave for 10-20 seconds

Spread biscoff on top of yoghurt and top with biscuits.

Refrigerate overnight

Enjoy!
In a classic, rich vanilla flavour the whole gang will love, THRIVE Vanilla Pancake Batter Plant Protein is the perfect flavour addition to baked goods, raw treats, smoothie bowls and everything in between. THRIVE is vegan, all natural, gluten-free & free from refined sugars.