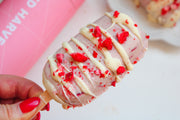 Watermelon Strawberry Pre-Workout Ice Blocks
Nov 10, 2023
Elevate your pre-workout game with a burst of refreshing flavour and natural energy! These watermelon strawberry pre-workout ice blocks by @betterbeingsteph are not only a delicious summer treat, but also a powerful fuel before your next workout. Packed with the goodness of Naked Harvest Watermelon Natural Pre-Workout and THRIVE Vanilla Pancake Batter Plant Protein, this recipe is will both treat your tastebuds and provide essential nutrients your body needs!
BENEFITS BEYOND FLAVOUR
Naked Harvest Watermelon Natural Pre-Workout: Our pre-workout blend delivers a clean energy boost, with 100% natural ingredients, and features performance enhancers like creatine, taurine, and green tea extract for maximum benefits without any post-workout crash.
Naked Harvest THRIVE Vanilla Pancake Batter Plant Protein: Packed with a complete amino acid profile, our plant-based protein supports post-exercise muscle repair. Consumption before your next workout helps prepare your muscles for the exertion, enhancing their resilience during exercise. Its gentle digestive nature makes it suitable for all, whilst the added vitamins and minerals boost overall nutrition.

Frozen Banana: Naturally sweet and loaded with potassium, bananas add a creamy texture while providing a quick energy boost.

Frozen Berries: The combination of frozen berries adds a powerful dose of antioxidants, supporting your overall health and wellbeing.

Yoghurt: Not only does Greek yoghurt contribute to the luscious creaminess of this recipe, but also provides a host of health benefits. Packed with probiotics, Greek yogurt supports gut health, promoting a robust digestive system. Additionally, its high protein content aids in muscle repair and satiety, making these ice blocks a wholesome choice to fuel your body before a workout.
HERE'S WHAT YOU'LL NEED
HERE'S HOW TO MAKE IT

Blend berries, banana, yoghurt, pre-workout & protein in a blender until thick and creamy.
Pour into a bowl and fold through strawberries.
Pour across ice block moulds.
Freeze until set, decorate with toppings & enjoy! 
Transport your taste buds to the tropics with our Watermelon Natural Pre-Workout! Packed with a juicy, mouthwatering taste, each sip transports you to paradise. Our clean formula is free from artificial additives and stimulants, enhances performance with a natural energy surge, and has epic thermogenic properties. Did we also mention our blend is vegan, all-natural, gluten-free and refined sugar free? What more could you ask for!