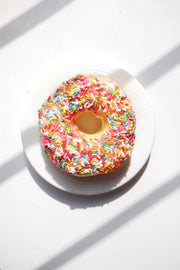 What are your cravings trying to tell you?
Nov 14, 2023
Cravings usually involve foods that we consider to be unhealthy - like chocolate, lollies, ice-cream, salty chips, a takeaway meal etc. I don't think many of us would have heard our friends complaining about their out-of-control cravings for a plate of vegetables right? This is why cravings tend to get a bad rap. However, it's not all bad, as we can actually become powerful when we lean in to what our bodies are trying to tell us.
The real reasons behind your food cravings could be due to a variety of different factors, including hormonal changes, emotional stress, and habits. Or, it could even be that a food craving is trying to communicate to you that your body is lacking certain nutrients. For example, a craving for chocolate may mean your body needs magnesium, while craving salty foods may be a sign of dehydration or a lack of minerals in your diet. 
Feeling in control of your cravings starts with understanding their underlying reasons. Are these cravings stemming from a physical need, like hunger, or are they driven by emotional factors, like feeling stressed? It's important to establish whether you are genuinely hungry, or if you're experiencing these cravings due to boredom, anxiety, or simply being stuck in a routine (like something sweet after dinner).
Let's delve into what the most popular food craving could really be trying to tell you:
Sugar
Sugar cravings are one that most of us can relate to, and they can be more than just a desire for something sweet; they often carry meaningful messages. When your body craves sugar, it could be signalling a need for quick energy, emotional comfort, or a response to imbalanced blood sugar levels or simply just responding to your routine of sugary snacks. Sometimes, it hints at nutrient deficiencies, like a desire for chocolate indicating a potential lack of minerals in your diet. Habitual cravings and a lack of satiety (depriving yourself of healthy carbohydrates, or not enough protein or healthy fats) in your meals can also play a role. By listening to your body and understanding the reasons behind your sugar cravings, you can make more informed and health-conscious choices to support your well-being.

Tip:
Sugar cravings are worsened by blood sugar spikes and crashes. To avoid the blood sugar roller coaster, include a healthy protein source into each meal and fill up on protein rich snacks. Additionally, satisfy your sweet tooth with having the chocolate bar you are craving, but add a side of fresh fruit. The fibre in fruit will help you feel full so you're less likely to over indulge on the sugary option. 
Let's put this tip into action with these Strawberries & Cream Chocolate Clusters. Not only will you satisfy your chocolate craving, but you'll also get the added fibre from the berries and a protein boost from Naked Harvest's THRIVE Plant Protein, your blood sugar levels will stay stable and you will be more likely to prevent further cravings. It's a win-win solution for your cravings and your well-being!
Strawberries & Cream Chocolate Clusters 
Here's what you'll need:
1 punnet of strawberries

½ cup yoghurt
1 cup melted chocolate
Here's how to make it:
Wash & dice strawberries

Mix with ½ cup yoghurt & THRIVE Plant Protein

Spoon into 6 clusters and freeze for 2-3 hours

Dip into melted chocolate and freeze again for 1 hour

Enjoy!
These can be stored in the freezer.