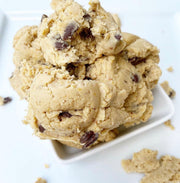 Vegan Choc Chip Cookie Dough
Feb 25, 2020
Raw cookie dough lovers, where are you at? We've got a recipe just for you! 
@eonlinenutrition has created the perfect vegan choc chip cookie dough treat, that is both mouth watering AND balanced with a great source of healthy fats, protein (from our THRIVE plant protein range) and complex carbohydrates. 
This recipe is vegan, GF, refined sugar free & delicious! 
What you'll need: 
1 can chickpeas, d

rained

1 tbl coconut oil


2 tbl coconut sugar


2 tbl almond milk


1 tsp vanilla essence


1 pinch of salt


1/4 cup almond meal


1/4 cup buckwheat flour


1/2 scoop of Naked Harvest Vegan Vanilla Shortbread Protein Powder 
Read below for substitution:
1/4 cup Vegan choc chips (or cacao nibs - not as sweet)
Here's how to make it:
Combine all ingredients into a food processor, and combine until you achieve a smooth, dough consistency. 
Chill in fridge until ready for serving (or eat straight away!)
THRIVE is packed FULL of nutrients, vitamins and minerals & functional ingredients to promote a thriving body. We have formulated the perfect plant based protein (pea and rice) with Magnesium, Organic Maca, Siberian Ginseng, Digestive Enzymes, Psyllium Husk and more to provide you with increased energy, mental performance, immune protection and extra tummy love.
Shop our THRIVE range today!