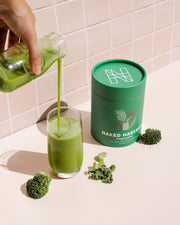 The Classic Greens Smoothie (containing 2 serves of veg)
Mar 12, 2021
Looking to increase your daily greens #NHgang? We've created the ultimate smoothie to provide you with not one, but two servings of veg! A simple, 4 ingredient recipe that's delicious, vegan, dairy and gluten free, free from any refined sugars and provides you with 18g of protein, 2 servings of veg and nature's daily dose of vitamins, minerals and antioxidants. You might be thinking how? Well say hello to our once-daily nutrient hit, Gorgeous Greens. A greens blend using the finest alkaline superfoods to support your body's health and wellbeing. Plus it contains a great source of amino acids and fibre. Ready to up your Greens game Gang? 
HERE'S WHAT YOU'LL NEED:
1 serve of Gorgeous Greens (which ever flavour takes your fancy GF) 
1 cup of frozen cauliflower
Water or Milk of choice (Coconut Water, Water, Coconut milk, Oat, Almond, Full Cream)
Ice
Optional: Add frozen fruit (e.g. banana or mango) to sweeten
HERE'S HOW TO MAKE IT:
Add all ingredients into your blender.
Blend until well combined and at desired consistency.
Pour & enjoy
Gorgeous Greens is your once daily nutrient hit designed to support greater wellness and provide your body with nature's daily dose of vitamins, minerals, and antioxidants. Plus, a great source of amino acids and fibre. 1 serving is equivalent to 1 serve of veggies. Your health and wellbeing has never looked so gorgeous. 
Shop our Gorgeous Greens range today!