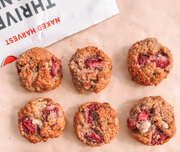 Strawberries & Cream Protein Granola Cookies
Aug 10, 2020
It's 3:30pm and your colleagues are starting to get peckish. Lucky for you, you baked these incredible Strawberries & Cream protein cookies the night before. The whole office cheers at your appetising baked goods... and oh, look! They're healthy too! That's sure to win you some major office brownie points. 
Recipe by our NH girl @geneschesser. 
Here's what you'll need: 
1 cup GF rolled oats

3/4 cup almond flour

2 heaped tbsp of Naked Harvest Strawberries and Cream Thrive Plant Protein

1/2 cup walnuts, coarsely chopped.  

1 tsp baking powder

1/4 tsp himalayan salt

2 eggs

2 tablespoons coconut oil, melted.

1 tsp vanilla essence

1/2 cup sugar-free maple syrup

1 cup fresh strawberries, chopped.
Here's how to make it: 
In a bowl, mix the dry ingredients (flour, oats, baking powder, salt, protein powder) until well combined. 
In a separate bowl, whisk the egg, coconut oil, vanilla essence, and maple syrup. 
Add the dry ingredients into the wet mixture and mix well. Finally, add in the strawberries, walnuts, and vegan white chocolate. Fold gently with a wooden spoon or spatula. 
Place the mixture into the fridge for 5 minutes, to harden like a dough.
While the mixture is the fridge, preheat the oven to 180 degrees Celsius and line 1 or 2 trays with baking paper. 
With a scoop or spoon, form little balls on the baking paper with the dough mixture (ensuring each little ball is at least 2 inches apart), then flatten slightly with the back of a spoon. 
Bake the cookies for 12-15 minutes, or when slightly golden on the edges. 
Leave to cool on the tray for 2 minutes then transfer to a wire rack to cool completely for 5 minutes. Enjoy! 
THRIVE is packed FULL of nutrients, vitamins and minerals & functional ingredients to promote a thriving body. We have formulated the perfect plant-based protein (pea and rice) with Magnesium, Organic Maca, Siberian Ginseng, Digestive Enzymes, Psyllium Husk and more to provide you with increased energy, mental performance, immune protection and extra tummy love.
Shop our THRIVE range today!