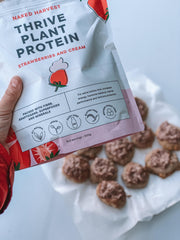 Strawberries & Cream Donut Bites
Jul 21, 2020
Healthy donuts, with a twist?! We've got just the thing NH gang. These Strawberries & Cream donut bites are packed with plant-based protein from our THRIVE plant protein range. What more could you want? Recipe by our girls from @cleankweens. Enjoy! 
What You'll Need:
DONUT BITES:⠀
1 cup plain flour⠀
1/2 cup buckwheat flour⠀
1/4 tsp cinnamon⠀
1/4 cup NH Strawberry & Cream Protein⠀
1/2 cup milk⠀
1 egg.⠀
ICING:⠀
2 tbsp strawberry jam⠀
1 tbsp NH Strawberry & Cream Protein⠀
2 tbsp shredded coconut⠀
1-2 tbsp milk.
Here's How to Make It: 
Combine all donut bite ingredients in a bowl.⠀
Place rounded spoonfuls of the mixture on a lined tray.⠀
Bake in a 180C oven for 15 minutes & leave to cool.⠀
Combine all icing ingredients together in a small bowl.⠀
Spread evenly over each donut bite & enjoy!
THRIVE is packed FULL of nutrients, vitamins and minerals & functional ingredients to promote a thriving body. We have formulated the perfect plant-based protein (pea and rice) with Magnesium, Organic Maca, Siberian Ginseng, Digestive Enzymes, Psyllium Husk and more to provide you with increased energy, mental performance, immune protection and extra tummy love.
Shop our THRIVE range today!