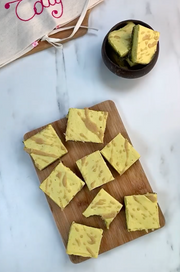 Raw Superfood Mango Cheesecake Slices
Sep 24, 2021
Do you struggle to get your daily dose of veggies in for the day? 💚 What if you could get your daily dose of fruit & veggies in 1 SERVING? If this sounds like your cup of tea, then our Gorgeous Greens range is a must have kitchen staple.
Are you looking for nutritious & delicious sweet treat to enjoy this spring? This one's for all our cheesecake lovers out there! Our NH girl @tatytable has created this mouth watering Raw Superfood Mango Cheesecake Slice 🥭 Containing our Mango Magic Gorgeous Greens & Mango Cheesecake THRIVE Plant Protein, this slice is full of vitamins & nutrients that will leave your body THRIVING all day long!
HERE'S WHAT YOU'LL NEED:
Crust:
Mango layer:
1 cup of raw cashews, soaked and drained

1 cup fresh mango

1 piece of fresh ginger and turmeric (optional)

½ cup coconut cream
HERE'S HOW TO MAKE IT:
In a blender, pulse all crust ingredients (except milk) until fine crumb consistency has been reached. Once consistency is reached, add in milk & pulse in blender until a sticky dough forms. Once a sticky dough consistency has been reached, line tin with baking paper & pour crust mixture into the tin and press down firmly.

For the mango layer, blend all mango layer ingredients in a blender until a thick, smooth & creamy consistency is reached. Once blended, pour mixture on top of base and leave in refrigerator to set. 

Once set, cut into slices & ENJOY!
Gorgeous Greens is your daily veggie nutrient hit designed to support greater wellness and provide your body with nature's daily dose of vitamins, minerals and antioxidants. Plus, a great source of amino acids and fibre. 1 serving is equivalent to 1 serving of veggies. It is recommended that you get in five serves of veggies per day, are you getting your five? 
Shop our Gorgeous Greens range today!