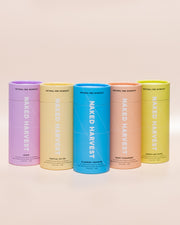 Optimise your workout in a few simple sips!
Nov 04, 2021
If you landed on this blog post, then you're on the hunt for a secret weapon to help you optimise your workout performance. Perhaps you're also looking for a natural energy boost? Or something that'll help you train harder, for longer… but without the added nasties or synthetic stimulants? 
Well, you've come to the right place! 
Our most loved supplement is hands down our natural pre-workout range. Formulated with natural ingredients and absolutely nothing artificial, our pre-workout range will give you the ultimate energy boost to crush your workouts and help you optimise your day.  
You must be thinking, how could a pre-workout possibly be 'all-natural'? We're here to give you the RUNDOWN on how you can optimise your workout in just a few simple SIPS. 
What makes our natural pre-workout different?
Firstly, our natural pre-workout blend contains no artificial nasties, synthetic stimulants or dangerous quantities of caffeine. Each of our ingredients is naturally sourced and suitable for people of all fitness levels. Plus our blend is vegan, all-natural, gluten-free and free from refined sugars. Honestly, what more could you ask for?
Wondering what's inside our secret blend? 
CHECK IT OUT:
Creatine: 
Helps build strong muscles and enhances your workout performance.
Raspberry Ketones:
An ingredient shown to increase fat cell breakdown by making your cells more susceptible to the fat-burning hormone 'norepinephrine'. It may also play a role in regulating metabolism and blood sugar levels.
Green Tea Extract: 
A natural caffeine source full of antioxidants that may help boost your metabolism, curb appetite and stimulate fat oxidation. 
Magnesium:
A natural mineral that helps convert food into energy and may also assist in muscle movement.
Acetyl L-Carnitine:
This ingredient helps you burn fat, increase your endurance and speeds up muscle recovery. It also increases brain performance and acts as a natural mood enhancer. 
Taurine:
Taurine decreases fatigue, muscle burn and protects you against cell damage; meaning your muscle will be able to work harder and for longer!
Vitamin C:
Packed with immunity-boosting properties that may assist in the healing and maintenance of wounds, cartilage, bones and teeth! Researchers have found that I may also be involved in the formation of collagen.