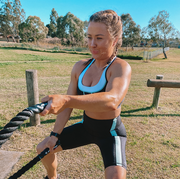 #NHgang Weekly Workout Schedule with Sam Garry
Jul 16, 2020
At NH HQ, we love having the opportunity to share some inspiration from our favourite social media gals within our NH community. Do you have trouble sticking to a workout schedule for the week? Check out how our girl Sam Garry schedules her week of workouts as a qualified PT. 
FITNESS LEVEL: Sam is a personal trainer and leads a highly active lifestyle. She trains around 4-5 days a week. 
PREFERRED STYLE OF TRAINING: She loves a sweaty HIIT workout with boxing and cardio elements involved. 
WHEN DOES SHE TRAIN?: Right now, she loves a mix of AM and PM sessions! 
Monday: 
Morning walk with her dogs, followed by a lunch time HIIT session. 
Tuesday: 
Evening upper body strength session.
Wednesday:
Morning walk with my dogs followed by a yoga/stretching session. 
Thursday: 
Evening functional lower-body session.
Friday: 
Morning walk with my dogs, followed by an evening HIIT session.
Saturday: 
Morning run. 
Sunday: 
Rest and recover day!