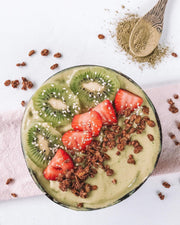 Gorgeous Greens Smoothie Bowl
Mar 12, 2021
Nourish yourself from the inside out w/ @geneschesser's delicious Gorgeous Greens Smoothie Bowl! Can you guess the magic ingredient gang? 😉🌿 You'll find not 1 but 2 serves of veg in this blend (thanks to our NEW Gorgeous Greens blend) plus a combination of healthy fats, protein and fruits to keep you thriving from the inside out 🥝🍓🍃👏
Here's what you'll need:
Here's how to make it:
Place all ingredients together into a blender.
Blend until at your desired consistency.
Serve with your favourite fruit and granola.
Enjoy!
Gorgeous Greens is your once daily nutrient hit designed to support greater wellness and provide your body with nature's daily dose of vitamins, minerals, and antioxidants. Plus, a great source of amino acids and fibre. 1 serving is equivalent to 1 serve of veggies. Your health and wellbeing has never looked so gorgeous. 
Shop our Gorgeous Greens range today!