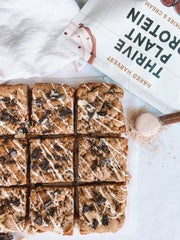 DF Cookies & Cream Protein Blondies
May 11, 2022
Do you struggle to fuel your body with functional superfoods, minerals and ingredients to promote a THRIVING & healthy body? 🍃 Our THRIVE Plant Protein range is a kitchen must-have 👩🏼‍🍳🍴
To celebrate the launch of our NEWEST Cookies & Cream THRIVE Plant Protein, our NH girl @geneschesser has created the dreamiest dairy free Cookies & Cream Protein Blondies! If you love oreos, cookies & everything in between, then make this flavour your new go-to.
Here's what you'll need:
3/4 cup oat flour

1/2 cup almond meal

1 tsp baking powder

1 egg

1/3 cup maple syrup

1/3 cup coconut oil; melted and cooled

1/4 cup DF white choc chips

6 Oreos; roughly chopped
Here's how to make it:
Preheat your oven to 180 degrees Celsius and line or grease a loaf tin

In a medium bowl, whisk together the oat flour, almond meal, protein and baking powder. Set aside.

In a small bowl, whisk together the egg, maple syrup and coconut oil. Add this wet mixture to the dry ingredients and mix until fully combined.

Fold through the choc chips and Oreos, then pour the mixture into the lined loaf tin.

Bake for 10-12 minutes depending on your oven and then allow to cool for 5 minutes.
THRIVE packed FULL of nutrients, vitamins and minerals & functional ingredients to promote a THRIVING body. We have formulated the perfect plant-based protein (pea and rice) with Magnesium, Organic Maca, Siberian Ginseng, Digestive Enzymes, Psyllium Husk and more to provide you with increased energy, mental performance, immune protection and extra tummy love. 
Shop our THRIVE Plant Protein now!