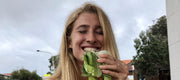 Day on a Plate with Sarah Cooper
Apr 23, 2020

We love to know what the average "day on a plate" looks like for our #NHgang! Check it out... our girl Sarah from @scoopitup_ gives us a sneak peek into her everyday "day on a plate". If you're looking for some healthy eating #inspo, you've come to the right place! 
Breakfast 
Brekkie smoothie
Handful of ice
1 cup of frozen berries
1 scoop NH protein
1 tsp almond butter
Water
Optional add-in mushroom adaptogen or maca
Top with seeds and cacao nibs
Morning Snack
coffee!
Lunch 
Tofu salad
rocket
spinach
tomatoes
carrot
tofu 
roasted pepitas
olive oil
tahini
lemon
coconut aminos
salt & pepper
fresh chilli
Afternoon Snack 
Turmeric bulletproof hot chocolate
How to:
Blend turmeric, cinnamon, cacao powder, dark chocolate, coconut butter + hot water
Enjoy! 
Dinner 
Miso salmon with crispy brussels, broccoli & zucchini
Dessert
Herbal tea & dark chocolate