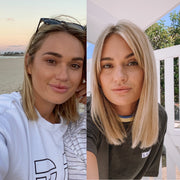 Co-Founder Georgie Stevenson's Collagen Journey 'Before and After'
Nov 08, 2020
Hey #NHgang! It's about time I jumped on here and gave you the low-down on all things Collagen. You've probably seen me rave on about our new beauty supplement and how it's become my daily essential for glowing skin, healthy hair, strong nails and digestive wellbeing. I've been trialling our Collagen Beauty Elixir for months before we launched the range, so as you can imagine, I'm so excited that they're now part of the NH range and we've finally got to share them with you all. I've been using our Collagen range for over 4 months now and have seen amazing results, so I'm here to give you my current update on my personal results. 

Our whole vision at Naked Harvest is to bring you guys natural supplements, without the artificial nasties or synthetic ingredients. One other thing that has been extremely important to Coopa and myself, alongside wanting to support and promote a healthy and active lifestyle, is educating and informing our consumers on the supplements they choose to consume. Understanding the what and why is essential. So let's get into it!
What is Collagen and why is it necessary? 
First off, collagen is the most abundant protein in our bodies and is basically the building block for our body's tissues. Too much to get your head around? I like to think of it as the glue that holds all my bones, skin, muscles, tendons and ligaments together. It essentially provides the body with support and strength to nourish and hydrate the skin, strengthen hair and nails, improve gut wellbeing, and joint and bone density. Our skin is actually made up of over 75% collagen which slowly begins to degenerate as we age. Our own body's production rapidly slows down around our mid 20's, hence the time those fine lines start to make an appearance. Having just surpassed 25, I told Coopa I was extremely keen to formulate our own natural collagen ASAP. Fast forward a year and here we are. Of course our range is all-natural, gluten free and dairy-free. Plus, we've even created a vegan option to act as your body's very own natural collagen booster! 


My Personal Results 
As I mentioned above, I've been taking our Collagen Beauty Elixir range (Bovine) for over 4 months now, and I have definitely felt it's vitality in regards to strengthening my hair, skin and nails. I have been taking my pure collagen supplement every day in my coffee, and you can see how much stronger, fuller and longer my hair has gotten - see my before and after below! Can't wait to give you guys another update in a few months. It's become a daily essential, truly reducing brittle nails, hair loss and dry skin. Can confirm these products work!!
PS. I personally take the pure collagen in my morning coffee or evening Moon Mylk, and the pine coconut on it's own (so refreshing) or in smoothies. Don't want your powder to clump? remember this. BLEND into cool liquids. STIR into hot liquids.
 
My hair growth 'Before and After'
How it started (May)                               How it's going (October)
 
 
 
Glow from the inside out with our range of Collagen Beauty Elixirs
Collagen Beauty Elixir (Bovine)
Our Collagen Beauty Elixirs (formulated with Hydrolysed Bovine Collagen Peptides) are formulated to enrich your body's natural collagen supply and support your gut wellness. We've added zinc, magnesium + additional sources of Vitamin C for increased collagen absorption. This combination helps top up your body's natural production of collagen, improve bone and joint health, fight visible signs of ageing, balance hormones and assist in better digestive wellbeing. Comes in two flavours, pure (completely tasteless, 100% Bovine Collagen Peptides) and pine coconut (for all my tropical loving gals).

Collagen Beauty Elixir Vegan Booster (Pine Coconut)
Is there a vegan option? Glad you asked GF! Our Collagen Beauty Elixir Vegan Booster is your new daily essential. It contains a range of amino acids that help the body create proteins needed to boost collagen production; zinc, which activates the proteins essential for collagen synthesis and lastly hydroxyproline, a major component of the protein collagen that increases the stability of the molecule. We have a further breakdown of our ingredients on our vegan booster page.
Hope you love it #NHgang.
G xx
FAQ's. Your questions, answered.
What's the difference between the two types?
The Collagen Beauty Elixir (Bovine) is created with hydrolysed bovine collagen peptides (non-vegan) to enrich you body's natural collagen supply. While the Collagen Vegan Booster contains essential vitamins, amino acids and minerals to boost your body's natural collagen production.

Is the Collagen range heat resistance?
Sure is. I add the PURE Collagen Elixir in my daily coffee.

How often do you take it?
This is completely personal preference. Though for best results, take daily. After all, consistency is key #NHgang!

Can I take collagen when I'm pregnant or breastfeeding?
Our Collagen Elixir Range is natural and our ingredients are safe, however, we always recommend seeking medical or dietary advice before consuming supplements if you are pregnant or breastfeeding.