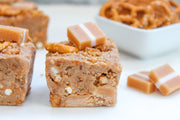 Cinnamon Cookie Protein Fudge
Dec 16, 2020
This may have to be one of our favourite recipes that our NH gal @betterbeingsteph has ever made. It's basically Christmas in fudge form…need we say more other than it features our limited edition (yes, once it's gone, it's gone for good) Christmas Cinnamon Cookies THRIVE plant protein. 


Here's what you'll need:
100g 

Peanut or almond butter

150ml coconut oil or softened Nuttelex/butter


30g inclusions e.g. pretzels, crushed gingerbread cookies, or choc chips

1⁄4 tsp salt
Here's how to make it:
1. To a saucepan over low-medium heat, large bowl, add nut butter and coconut oil. Stir until melted and thick.
2. pour batter into a large mixing bowl, and stir in protein powder and salt.
3. Stir through inclusions of choice.
4. Pour mixture into a lined tray and place in the freezer to set.
5. Once set, cut into 8 pieces. Store and serve chilled. 
THRIVE is packed FULL of nutrients, vitamins and minerals & functional ingredients to promote a thriving body. We have formulated the perfect plant-based protein (pea and rice) with Magnesium, Organic Maca, Siberian Ginseng, Digestive Enzymes, Psyllium Husk and more to provide you with increased energy, mental performance, immune protection and extra tummy love.
Shop our THRIVE range today!