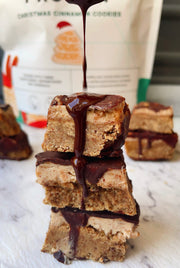 Christmas Caramel Slice
Jan 08, 2021
Festive flavours in January? Any reason to use our limited edition Christmas protein! Check out this delicious spice filled Caramel slice made by our gal @scoopitup_. Our #NHgang took Christmas baking to the next level with our Christmas Cinnamon Cookies THRIVE plant protein! If you were lucky enough to get your hands on it, then this one's for you!
Here's what you'll need:
Base layer
1 cup almond meal
2 tbsp maple
2 tbsp tahini
2 tbsp coconut oil
1 tsp Nutmeg
1 tsp Cloves
1 tsp Cinnamon
Pinch Salt
1 tsp Maca or vanilla
Middle layer
2 tbsp coconut cream
1 tbsp almond butter
1 tbsp protein
Pinch Salt 
1 tbsp Maple 
Topping
Dark chocolate (optional)
Here's how to make it:
Mix base ingredients together and press into a baking tin and bake at 180 for 10 mins. Allow to cool.
Mix middle layer ingredients until it becomes a thick caramel and spread over base.
Melt one block of dark choc then pour on top and set in freezer. Slice after 2+ hours and store in freezer too YUM! 
THRIVE is packed FULL of nutrients, vitamins and minerals & functional ingredients to promote a thriving body. We have formulated the perfect plant-based protein (pea and rice) with Magnesium, Organic Maca, Siberian Ginseng, Digestive Enzymes, Psyllium Husk and more to provide you with increased energy, mental performance, immune protection and extra tummy love.
Shop our THRIVE range today!