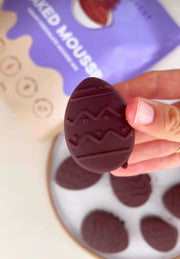 Chocolate Mousse Easter Eggs
Apr 06, 2023
Get your chocolate fix this Easter with our Naked Mousse mix! Our functional ingredients make @rawbeccabites_'s Chocolate Mousse-Filled Eggs recipe a healthier dessert option that's vegan, dairy-free, gluten-free, and refined sugar-free. Keep reading to find out how to make this Easter treat in no time!
Here's what you'll need:
6 tbsp NH 

Naked Mousse 

Dark chocolate

1 tbsp coconut oil
1 cup coconut milk
Here's how to make it:
Melt dark chocolate with coconut oil and add a layer around Easter egg moulds, making sure to coat the sides.

Set in freezer.

Prepare chocolate mousse by combining NH Naked Mousse and coconut milk.

Spoon into Easter egg moulds and return to freezer for 30 minutes.

Add remaining melted chocolate on top.

Return to freezer for 1 hour or until set.
Our Naked Mousse low-calorie dessert mix not only tastes delicious. but is here to help you with a range of health benefits such as reduced stress levels, supporting a healthy immune system, and promoting digestive wellbeing. Not to mention it's gut-friendly, vegan-friendly, gluten-free, dairy-free, refined sugar-free & under 133 calories per serve!