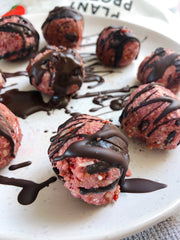 Choc Berry Truffles
Jul 08, 2020
Craving the perfect bite-sized snack? Check it out... this Choc Berry Truffle treat created by @scoopitup_ is packed with protein, superfoods & minerals from our THRIVE Plant Protein. Enjoy!
Here's What You'll Need: 
1 cup frozen raspberries
1 cup coconut
1/2 cup almonds
1 tbsp almond or cashew butter 
Here's How to Make It: 
Blend all ingredients together.
Roll into small/ medium-sized balls. 
Place in the freezer to set. 
Drizzle with melted dark choc to serve.
THRIVE is packed FULL of nutrients, vitamins and minerals & functional ingredients to promote a thriving body. We have formulated the perfect plant-based protein (pea and rice) with Magnesium, Organic Maca, Siberian Ginseng, Digestive Enzymes, Psyllium Husk and more to provide you with increased energy, mental performance, immune protection and extra tummy love.
Shop our THRIVE range today!