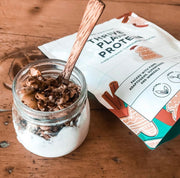 Apple Crumble Yoghurt Jars
Dec 21, 2020
Breakfast is served! This is what we'll be having this whole festive week leading up to Christmas...and let's be real, most probably after because our Christmas Cinnamon Cookies THRIVE plant protein is that delicious. Thanking our NH gal @lilymcconachy for whipping up this recipe!
Here's what you'll need:
2 Granny Smith apples (diced)
1 tsp cinnamon
1/2 tsp nutmeg
1/4 cup water
1 tsp vanilla extract
2 cups rolled oats
1/3 Apple purée 
2 tbsp vegetable oil
3 tbsp sugar free maple syrup
1/4 cup natural almonds (chopped)
1 tbs chia seeds
2 tbsp of shredded coconut
Greek yoghurt 
Here's how to make it: 
Preheat oven to 180 degrees Celsius. 
Add apples, cinnamon, nutmeg, water and vanilla extra into a saucepan and cook on low-medium for 15 minutes until soft but holding shape.
Add oats, protein powder, apple purée, oil, maple syrup, almonds, chia seeds and coconut into a bowl and mix until combined. 
Combine Apple and oat mix, spread evenly on a tray and bake for 20-25 minutes, tossing half way through for even cooking. 
Serve on top of geek yoghurt (can be plain, flavoured or even more protein mixed into plain).
THRIVE is packed FULL of nutrients, vitamins and minerals & functional ingredients to promote a thriving body. We have formulated the perfect plant-based protein (pea and rice) with Magnesium, Organic Maca, Siberian Ginseng, Digestive Enzymes, Psyllium Husk and more to provide you with increased energy, mental performance, immune protection and extra tummy love.
Shop our THRIVE range today!