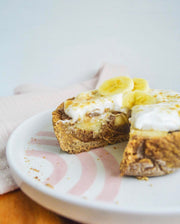 Weetbix Banoffee Pie
Aug 21, 2020
Dessert is served! Looking for a dessert the whole family will love? Look no further gang. The ultimate dessert pie is here, it's delicious... and it's vegan! Recipe by the wonderful @thecleantreatlady featuring our THRIVE Plant Protein. What more could you want? 
Here's what you'll need: 
BASE:
4 weetbix 
2 tbsp coconut oil 
2 tbsp Naked Harvest Supplements Vanilla Shortbread Plant Protein 
2 tbsp maple syrup 
1 tbsp date water 
FILLING:
1/2 cup soaked dates 
1/4 cup thick coconut cream 
1 tbsp coconut sugar
2 tbsp date water 
TOP:
1 small banana
Coconut yogurt 
Coconut sugar 
Here's how to make it: 
In a food processor, blend all base ingredients together until combined. Press mixture into a pie mould, and create a wall for filing to sit in. 
Boil kettle and soak all dates for 5-10 minutes. In a food processor, blitz all filling ingredients together until smooth. Pour mixture into pie mould. 
Slice your banana and spread over pie evenly. Set in freezer until solid. 
Top with coconut yogurt (add extra banana if you wish) and sprinkle some coconut sugar on top to finish. Cut and enjoy! 
THRIVE is packed FULL of nutrients, vitamins and minerals & functional ingredients to promote a thriving body. We have formulated the perfect plant-based protein (pea and rice) with Magnesium, Organic Maca, Siberian Ginseng, Digestive Enzymes, Psyllium Husk and more to provide you with increased energy, mental performance, immune protection and extra tummy love.
Shop our THRIVE range today!