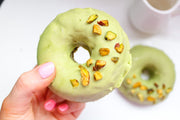 Vanilla Greens Pistachio Donuts
Mar 12, 2021
If you're falling in love with the colour of this donut, then you'll fall in love with the taste and all the PACKED goodies inside. Our dessert queen @betterbeingsteph has really outdone herself, creating these vanilla greens pistachio donuts that feature our Vanilla Pancake Batter Thrive plant protein and Very Vanilla Gorgeous Greens. Getting your daily dose of vitamins, minerals and antioxidants has never been so easy or tasted this good. 
For the donuts:

150g banana, mashed/pureed
50g vanilla Greek yoghurt or non-dairy alternative
3 x serves NH Very Vanilla Gorgeous Greens 
50g oats ground into a flour or flour of choice
70ml liquid egg whites or 1 egg, whisked
20-40ml milk of choice, add as needed to thin batter
1 tsp baking powder
1 tsp vanilla essence
For the icing: 
HERE'S HOW TO MAKE IT:
Preheat oven to 180°C.
Mix all donut ingredients together in a large mixing bowl until combined into a smooth batter.
Pour batter across a donut (or muffin) tin, and bake for 20-25 minutes. Allow to cool slightly.
For the icing, mix melted chocolate with Gorgeous Greens powder. Stir until well combined and smooth. 
Dip each cooled donut into the icing, sprinkle crushed pistachios on top and place in the fridge or freezer to set before serving.
Keep chilled.
 Gorgeous Greens is your once daily nutrient hit designed to support greater wellness and provide your body with nature's daily dose of vitamins, minerals, and antioxidants. Plus, a great source of amino acids and fibre. 1 serving is equivalent to 1 serve of veggies. Your health and wellbeing has never looked so gorgeous. 
Shop our Gorgeous Greens range today!