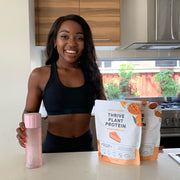 THRIVE: 5 Minutes with Cassandra Allen
Nov 11, 2019
My name is Cassandra and I studied and completed a Bachelor's Degree in Exercise and Sports Science. I have always loved sports, from gymnastics, basketball to football, anything that requires skill and most importantly can score I wanted to be involved. A twist of fate (literally) left myself no choice but to shift my focus from sports to exercise when I ruptured my ACL clean in two during a touch football tournament. I wanted to be up and back in action and that is when I learnt, I didn't need a score to stay active, I do not have to have the best skills on the field and I have never felt stronger, faster and healthier than I do now.
Q. What makes you THRIVE every day? 
I love to be surrounded by positive people and by having positive thoughts it is a great way to move through life. Positivity and staying organised definitely help me to become better.Also! Music is a big love of mine, I nearly always start my day with feel good beats that leave me smiling.
Q. What does a "healthy" lifestyle look like to you?
I believe sunshine, movement, inner peace and nutrient rich foods are key to a good life. It starts inside, what information and food are we feeding our brain to make our hundreds of everyday decisions for the rest of our lives. Relationships with family, friends, food and exercise - remove pain, rebuild with peace, then we're really moving towards health.
Q. If you had to cook one meal for the rest of your life, what would it be? 
One meal! That is impossible to choose! I loveeeee Grilled Fish, so some kind of beautiful fresh fish recipe hahaha.A friend of mine from the mountains who grows everything from the ground up told me"The less barcodes the better"and that always stuck with me.
Q. What are three habits that have improved your life dramatically?
Exercise in the morning. Be on time. Realising the choices are actually yes and NO, Rather than yes and maybe.
Q. What is your favourite way to move your body? 
My favourite way to get moving is definitely a HIT (High Intensity Training) session. I love everything about it, the heart rate goes up, involving multiple large muscle groups, the mental push you have to give when you are near the end. I am drawn to the mental and physical aspects, its challenging every time and I don't have any room to think about anything else.
Q. What is the biggest lesson you've learnt on your health journey, that you want to share with others?
There will always be someone that pushes heavier, runs faster, jumps higher and even recovers better than you. When you focus on yourself, when you stop looking around the gym and focus on each rep,movement, step you take, you will hit so many new levels. Comparing yourself against the world is the result of a cultural blindfold that hides you from knowing how truly unique and magnificent you are. When you lift that blindfold off, it is amazing what you can finally see and most importantly do.
Q. What is your favourite THRIVE flavour, and how do you like to use it? Can we have the recipe?
The Mango cheesecake! I have never had a mango cheesecake protein and also so true to its name!  A post workout breakfast smoothie is my go to, they are so delicious and super quick to blend up. Of course!!! 150ml Unsweetened Almond Milk (Inner Goodness Aldi), 1 Full banana - (Fruit and Vegetable Markets), 150ml Cold filtered water, 1 x scoop Super Greens and you are done. 
Q. Lastly, where can people find you?! 
People can find me at the gym, by the beach, eating up a storm at Nandos or pretty easily on my social media account @cassandraallen_ on Instagram : ) Thanks for the chat!