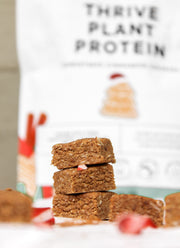 Super Cookie Fudge
Jul 16, 2021
The perfect amount of cinnamon with a touch of Christmas cheer 🎅🏽 Our NH girl @lilyturtonfit has whipped up the ultimate Super Cookie Fudge just in time for Christmas in July 💚 Containing our Limited Edition Christmas Cinnamon Cookies THRIVE Plant Protein, immerse yourself in a world of Christmas joy + fuel your body with added superfoods, minerals & functional ingredients 🍪
HERE'S WHAT YOU'LL NEED:
1 cup oat flour

1/3 cup almond butter

1/3 cup honey

1/2 tsp cinnamon 

1/2 tsp nutmeg

Pinch of salt
HERE'S HOW TO MAKE IT:
Combine all of the ingredients into your vitamix or a bowl and mix ingredients until well combined & a thick consistency is reached. (NOTE: If your mixture is crumbly or dry add more honey).

Line a slice or loaf tin with baking paper and smooth mixture into your tin. 

Place in the freezer for 4 hours or until fully set.

Once fully set, cut into slices and ENJOY! 💚❤️
THRIVE is packed FULL of nutrients, vitamins and minerals & functional ingredients to promote a THRIVING body. We have formulated the perfect plant-based protein (pea and rice) with Magnesium, Organic Maca, Siberian Ginseng, Digestive Enzymes, Psyllium Husk and more to provide you with increased energy, mental performance, immune protection and extra tummy love. 
Shop our THRIVE Plant Protein now!