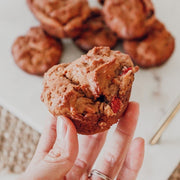 Strawberry Muffins
May 09, 2020
We've been hanging out for an epic healthy sweet muffin recipe, and I think we've just hit the jackpot! This Strawberry Muffins recipe by NH girl @alexsfitlife_ combines our two favourite things, fresh fruit, and our Strawberries & Cream Plant Protein. 
YOU MUST TRY THIS #NHgang! 
What You'll Need:
1 cup unsweetened vanilla almond milk
1 teaspoon apple cider vinegar
1 1/2 cups plain flour
1/2 cup Strawberries & Cream Protein Powder
2½ teaspoons baking powder
¼ teaspoon bicarb soda
½ teaspoon salt
½ cup + 2 tablespoons coconut sugar
¼ cup + 2 tablespoons extra virgin olive oil
1 teaspoon vanilla extract
1 heaping cup fresh strawberries sliced thin
Here's How to Make It: 
Preheat the oven to 180degrees. Spray a muffin tin with cooking spray and set aside.
In a small bowl combine almond milk and apple cider vinegar. Set aside to allow milk to curdle.
In a larger bowl combine flour, protein powder, baking powder, bicarb soda, and salt. Set aside.
In a separate bowl, mix together sugar, olive oil, and vanilla extract. Add almond milk/vinegar mixture and stir to combine.
Stir in the dry ingredients until well incorporated. Be careful not to over-mix - a few lumps are okay.
Gently fold in the strawberries.
Spoon into muffin tins, filling each cup about ¾ full. Bake for 25-30 minutes until a skewer inserted in the middle comes out clean.
Remove from the oven and allow muffins to cool for 5-10mins before removing from pan.
Transfer muffins to a rack until completely cool. Serve and Enjoy!
Serving suggestion: top with 1 serve of powdered peanut butter. Muffins can be stored in the fridge or freezer.
THRIVE is packed FULL of nutrients, vitamins and minerals & functional ingredients to promote a thriving body. We have formulated the perfect plant-based protein (pea and rice) with Magnesium, Organic Maca, Siberian Ginseng, Digestive Enzymes, Psyllium Husk and more to provide you with increased energy, mental performance, immune protection and extra tummy love.
Shop our THRIVE range today!