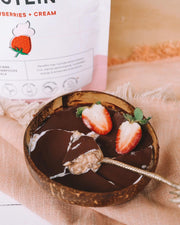 Strawberries & Cream Chocolate Shell Oats
Jul 06, 2021
The perfect overnight oats didn't exist… until now! Our friends over at @coconutbowls & @goodnegg_nutrition have created the breakfast of your dreams ☁️ This Strawberries & Cream Chocolate Shell Oats is creamy, delicious and has that satisfying chocolate crunch we all crave 🍫
HERE'S WHAT YOU'LL NEED
Oats layer:
⅓ cup oats

1 tsp chia seeds

⅔ cup of milk of choice

½ tsp vanilla bean
Cream layer:
3 tbsp greek yoghurt

½ tsp vanilla bean
Chocolate shell:
2 squares of Lindt dark chocolate

½ tsp coconut oil
Toppings:
Fresh fruit (we recommend strawberries)
HERE'S HOW TO MAKE IT:
Simply mix together the oats, chia seeds and protein powder until well combined. Add your milk of choice and let it soak for 30 minutes or overnight (ensuring the oats + chia seeds absorb the liquid).

Prepare the cream layer by mixing the greek yoghurt and vanilla together, set aside.

Once the oats are set, smear the cream layer over the top and place back into the fridge for 10-15 minutes.

To make the chocolate shell. Heat the dark chocolate and coconut oil in a saucepan & until fully melted. Once melted, pour over the oats and swirl around until it is fully set. NOTE: This will set quicker than you think! Place back into the fridge for an additional 5 minutes, or until it is ready to be eaten.

Serve with fresh strawberries and ENJOY!
THRIVE is packed FULL of nutrients, vitamins and minerals & functional ingredients to promote a THRIVING body. We have formulated the perfect plant-based protein (pea and rice) with Magnesium, Organic Maca, Siberian Ginseng, Digestive Enzymes, Psyllium Husk and more to provide you with increased energy, mental performance, immune protection and extra tummy love. 
Shop our THRIVE Plant Protein now!