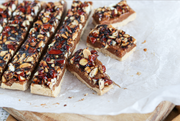 Salted Almond & Caramel Toffee Slice w/ Collagen Beauty Elixir
Oct 22, 2020
We know this one is going to be a favourite. Credit due to @bridgethunt_ who calls it the 'Mother of All Slices'. Yep, we'd have to agree! Do you have any fond memories of summertime, fruit shops or toffee apples, this sure gives us some throwbacks. Bridget says this slice is similar to those memories, a perfect balance of toffee x peanut brittle. Here's her inspiration behind the recipe…
'I worked at a fruit shop throughout high school down the road from where I grew up, and it was the best job I ever had! The owners were such a beautiful family that took me in as if I was their own daughter! I miss them so much! I used to eat the toffee apples like they were going out of fashion! I really owe them so much for the amount they looked after me!'
Relive those childhood memories and whip up this recipe. P.S. Have you tried our new Collagen Beauty Elixir Range!?…add it in for some extra goodness. 
HERE'S WHAT YOU'LL NEED:
Base
150g almond meal
1/3 cup soy milk 
Tart filling
salted almond caramel
3/4 cup almond butter
1/3 + 1tbsp cup rice malt syrup
2-3 tsp vanilla
Dash of soy milk
Pinch of salt
Topping
1/2 cup mixed nuts
2-3 tbsp maple syrup
Sprinkle of salt
HERE'S HOW TO MAKE IT:
In a bowl mix together the base ingredients with a spatular until combined thoroughly. In a small lined baking tin, press base into a thin layer across the bottom of the tin (0.5 - 1cm thickness, roughly).
Pop into the freezer to set. In the meantime, in a operate bowl, add all ingredients for the almond salted caramel and thoroughly combine until you reach a silky texture.
Remove base from freezer and cover bottom later with the caramel, and return to the freezer to continue to set.
Over a medium heat, add the nuts to a small pan, keeping a watchful eye over them, ensuring to turn consistently so they do not burn.
Once beginning to brown, add maple syrup and salt, stirring continuously until the maple syrup is bubbling and starts to cook down. 
Remove from heat and top the salted caramel layer and return to the freezer to set for minimum of 2 hours. Once set, remove from freezer and chop into bite size pieces or bars. 
THRIVE is packed FULL of nutrients, vitamins and minerals & functional ingredients to promote a thriving body. We have formulated the perfect plant-based protein (pea and rice) with Magnesium, Organic Maca, Siberian Ginseng, Digestive Enzymes, Psyllium Husk and more to provide you with increased energy, mental performance, immune protection and extra tummy love.

Shop our THRIVE range today!