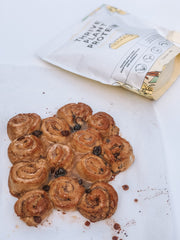 Pulled Cinnamon Protein Scrolls
May 01, 2020
Drooling over this epic protein cinnamon scrolls recipe created by @cleankweens! Infused with THRIVE Plant Protein in Vanilla Shortbread for a dessert packed full of beneficial nutrients, superfoods and minerals to promote a thriving body... what more could you want out of a healthy treat?! 
What You'll Need: 
Scrolls
1 cup plain flour
1 cup greek yogurt
1/2 cup Naked Harvest Supplements Vanilla Protein
2 tsp baking soda.⠀⠀
Glaze⠀
2 tbs melted coconut oil⠀
3 tbs honey
3 tsp cinnamon
1 tbs milk
1/2 cup sultanas
Here's How to Make It:
Preheat the oven to 180C.⠀
Combine all scroll ingredients in a bowl.⠀
Knead on a floured surface until dough forms.⠀
Roll into a long rectangle, use more flour if needed.⠀
Mix all glaze ingredients together in a bowl.⠀
Spread 1/2 the glaze mix over the scroll dough.⠀
Roll the dough lengthways into a long log.⠀
Cut into 4cm pieces & place upwards in a tray.⠀
Place scrolls 1-2cm apart in a circle form.⠀
Bake for 10 minutes.⠀
Once cooked, spread the remaining glaze on top.
THRIVE is packed FULL of nutrients, vitamins and minerals & functional ingredients to promote a thriving body. We have formulated the perfect plant-based protein (pea and rice) with Magnesium, Organic Maca, Siberian Ginseng, Digestive Enzymes, Psyllium Husk and more to provide you with increased energy, mental performance, immune protection and extra tummy love.
Shop our THRIVE range today!