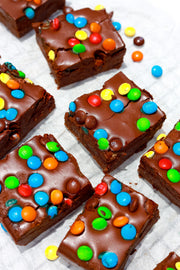 No Bake Vegan Cosmic Protein Brownies
Nov 09, 2023
These cosmic brownies are just as nourishing as they are delicious! Inspired by our childhood, this fudgey creation by @rawbeccabites_ requires ingredients you likely already have in your kitchen. Plus, did we mention they're no-bake, vegan, gluten-free, dairy-free, refined sugar-free and packed with protein?! 
At Naked Harvest, we believe in the power of wholesome ingredients that nourish your body and soul. These cosmic proteins showcase the magic of simple, natural goodness, satisfying your chocolate cravings while delivering essential nutrients. Every bite is infused with plant protein, courtesy of our Chocolate Swirl THRIVE Plant Protein. 
Get your apron ready and savour the taste of fudge brownie, chocolate ganache & delicious choc chip rainbow sprinkles - all made with healthier, better-for-you ingredients! 
Here's what you'll need
1 cup almond flour

2 heaped tbsp smooth peanut butter
1/4 cup maple syrup
1/2 cup + 3 tbsp coconut oil
1/2 cup + 2 tbsp cacao
1/4 cup coconut sugar
1/2 cup boiling water
Choc chips of choice
Here's how to make it
In a mixing bowl, combine almond flour, protein powder, peanut butter, maple, 2 tbsp cacao and 3 tbsp coconut oil. Mix until dough forms.

Transfer to a lined loaf tin and press to flatten.

Place in freezer for 10 minutes.

Prepare chocolate ganache by combining 1/2 cup cacao, coconut sugar, 1/2 cup coconut oil and boiling water in a blender.

Pour ganache over dough. Return to freezer for 10 minutes.

Sprinkle coloured chocolate chips on top.

Return to freezer for 15 minutes or until set.

Slice and enjoy! 
Immerse yourself in a swirl of rich chocolatey goodness. Our THRIVE Choc Swirl Plant Protein is a chocolate lover's dream come true. A versatile and classic flavour you absolutely have to add to your plant protein collection! 
THRIVE is vegan, all natural, gluten-free & free from refined sugars. To make things even better, we've formulated our protein supplement with added superfoods, minerals and functional ingredients to promote a thriving, healthy body from the inside out.