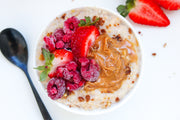 #NHgang Day on a Plate with Steph McDonald
Oct 15, 2020
We love to know what the average "day on a plate" looks like for our #NHgang! Check it out... our girl Steph gives us a sneak peek into her every day "day on a plate". If you're looking for some healthy eating #inspo, you've come to the right place! 
As someone whose job revolves around food and recipe creation - I actually tend to keep my own meals pretty simple, quick, and easy!

After hours in the kitchen working, the last thing I want to do is spend any more time than necessary putting together a complicated meal. I always keep my fridge full of fresh veg, fruit, and lots of easy carb sources like rice cakes, oats and potatoes so that I can whip together balanced meals without fuss. I'm also coming off the back of a low FODMAP protocol, so I'm trying to find the perfect balance between reintroducing more variety in my diet and sticking to the foods I know make me feel my best. Every day on my plate is a little different, but I always make sure I'm eating enough and treating myself well - literally!
BREAKFAST
Creamy Protein Porridge:
2 x GF Weetbix
60ml liquid egg whites
100ml almond milk
Topped with peanut butter, strawberries and raspberries 
MORNING SNACK
Decaf Coffee or Matcha Latte
LUNCH
Rice cakes topped with Vegemite, avocado, scrambled eggs (usually 2 whole and 2 extra white) and spinach 
AFTERNOON SNACK
Another decaf coffee with a Better Being Bar protein bar
DINNER
Grilled barramundi or prawns with roast pumpkin & potatoes (seasoned with savoury hemp blend), steamed broccoli, beans, zucchini, spinach & avocado
DESERT 
Moon Mylk and a square of dark chocolate