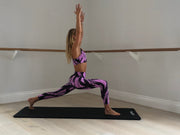 #NHgang Day in my Life with Sarah Cooper
Jun 08, 2020
We love to know what the average "day in the life" looks like for our #NHgang! Check it out... our girl Sarah from @scoopitup_ gives us a sneak peek into her everyday routine. If you're looking for some healthy habits #inspo, you've come to the right place! 
8:00 am: 
If I am not working I will sleep in a bit and get up around 8 am, usually lie in bed a little and listen to music/plan my workout
8:30 am:
Time for a workout! If I am not teaching I will do my own workout - usually spin, boxing or the sculpt society. 
9:30 am:
I also walk to get a coffee to start my day with fresh air and sunshine before sitting at my desk doing uni work. 
10:00 am:
Brekkie time! I will usually make a savoury brekkie, lately, in the cold, I have been doing something warm like eggs or falafels with cauliflower rice, sauteed kale in bone broth and tahini with chilli and turmeric for healing properties!
10:30 - 2:00 pm:
I will usually spend the day doing university lectures, @scoopitup emails, recipe content, class preparation or class filming as during COVID we have been pre-recording classes while the studios shut! I will try and break up my jobs into segments - either teach in between uni or go for a walk/ make a recipe so I am not sitting all day. 
2:00 pm:
I will break up my workday by going to the studio to film or teach a class and make myself some lunch before working again. 
3:00 - 6:00 pm:  
More uni study! Or @scoopitup work ( boring lol!) Always made better with a good playlist and diffusing some oils to help concentration.
6:00 pm: 
I love ending my day with a warm bath and magnesium salts. I recently made my own body scrub so I have been using that in the bath!
7:00 pm: 
Dinner time! I always have dinner with my family together so we cook something yummy usually some sort of protein ( fish or steak) with lots of veggies/salad. 
8:00 pm: 
If I am not finishing a recipe to photograph the next day I will try and wind down with a book or tv show. I just got a new book called the eggshell skull (highly recommend!)