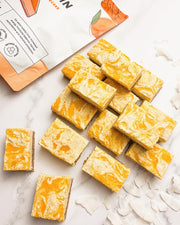 Marble Mango Cheesecake Slice
Nov 01, 2020
Can we take a second to appreciate how amazing this slice looks! Summer is on its way, so our NH girl @seewanteat_ has the ultimate mango treat to satisfy those sweet cravings. Totally vegan, refined sugar and gluten free, this slice is sure to please.
Here's what you'll need:
BASE:
1 cup shredded coconut
1 cup almonds
1 cup cashew nuts
1 tsp vanilla extract
1 cup pitted dates, soaked
Pinch of salt

CHEESECAKE LAYER:
1 cup cashew nuts, soaked for 4-6 hrs in water
400ml chilled coconut cream
Juice of half a lemon

MANGO PURÉE:
1 cup mango, fresh or frozen
Juice of half a lemon
1/2 cup water
Here's how to make it:
Soak the dates in hot water for 5-10 minutes until soft

Blend the coconut, almonds and cashew nuts in a food processor then add the drained dates, vanilla, and salt

Blend well, then transfer to a lined tin/dish

Press mixture into the dish and place in the fridge whilst you make the filling

Blend the soaked cashews, coconut cream, protein powder, and lemon juice in a food processor

Pour onto base and place back in the fridge whilst you make the mango purée

Blend the mango, lemon juice, and water in a food processor or blender.

Evenly place the purée, 1 tbsp at a time, into the cheesecake filling

Use a skewer to swirl the two mixtures together.

Freeze for 3-4 hours, slice into pieces and then store in the fridge.
THRIVE is packed FULL of nutrients, vitamins and minerals & functional ingredients to promote a thriving body. We have formulated the perfect plant-based protein (pea and rice) with Magnesium, Organic Maca, Siberian Ginseng, Digestive Enzymes, Psyllium Husk and more to provide you with increased energy, mental performance, immune protection and extra tummy love.

Shop our THRIVE range today!