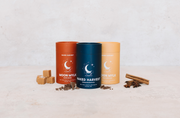 Improve your sleep quality in one simple step
Sep 02, 2021
Did you know that humans spend ⅓ of their life sleeping? On average, a third of Australians over the age of 18 are getting less than the minimum recommended amount of sleep and 89% of Australians believe technology is affecting their sleeping habits 🤯 If you fall into this statistic and struggle with sleep, then this blog post is for you. Read on… 
It's safe to assume that sleep is an essential part of our day to day lives. Sleep allows your body and mind to recharge, helps you perform at your best and is a key element in keeping you fighting fit and healthy. BASICALLY… we are huge fans of sleep here at NH HQ, and we simply had to create a product designed to help with that. 
Our powerhouse sibling duo and Naked Harvest co-founders Georgie & Coopa Stevenson can relate... They both experienced restless sleep and disjointed nighttime routines. And that's when Moon Mylk was born! Created by two determined individuals who sought after a functional nighttime blend that not only tasted delicious but acted as a natural sleep aid, reduced stress, calmed the nervous system and sped up your body's "wind down" process. 
Introducing our famous Moon Mylk blend 🤍
SIP, SIP, SLEEP 😴 Moon Mylk is a functional blend formulated with a range of unique herbs, vitamins and minerals designed to naturally calm your nervous system, relieve stress, act as a natural sleep aid and help your body relax and unwind.
You must be thinking, how will a healthy hot drink help de-stress me and eliminate my bad sleep habits? 🤔 Check it out:
Magnesium:

I may help improve your sleep. I play a huge role in your nervous system, helping activate mechanisms that help to quiet and calm you.

Zinc:

I play an essential role in the neurotransmitter function that helps maintain cognition, plus is necessary for the metabolism of Melatonin (key hormone to have a healthy sleep). I also have a sedative effect on the nervous system, thought to help mental recovery post-stress.

Organic Ashwagandha Root:

I may help to reduce anxiety and help you unwind at the end of the day. I may also boost brain function, fertility and testosterone in men.

L-tryptophan:

I am an essential amino acid that helps build proteins and certain brain-signalling chemicals in serotonin - helping to control your mood and help you sleep better!

Glycine:

I may reduce symptoms of insomnia and can help improve your sleep quality.

Passion flower:

Some researchers say I am believed to help treat anxiety & insomnia! 

Camu Camu:

I help fight off viral infections in the body and contain antioxidants that may help boost immunity.
With over 500 reviews and counting, we can proudly say that our Moon Mylk range has transformed our #NHgangs lives! Don't believe us? Check out reviews now to see why our Moon Mylk range is our best selling range!
Our DREAMY Moon Mylk range is now available in three mouth watering flavours that we can guarantee will transform your nighttime routine forever 🤤 OG Moon Mylk, Vanilla Maple Chai and Salted Caramel 💛🧡💙