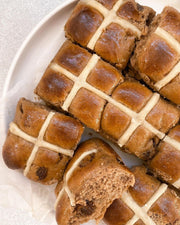 Hot Cross Buns
Mar 19, 2021
There's nothing better than waking up to the smell of hot cross buns on Easter. Our gal @clean_treats has whipped up this recipe just in time. Super light & fluffy, with delicious spices, these sweet buns are sure to knock your socks off. 
Here's what you'll need:
Wet ingredients:
175ml almond milk, lukewarm
30g buttery nuttalex, melted
1 egg, whisked (vegan sub 1/4 cup apple sauce) 
Dry ingredients:
1 tsp instant yeast (approx 1/2 sachet)
250g plain flour (GF if needed)
35g NH Vanilla Pancake Batter THRIVE Plant Protein
45g Natvia or coconut sugar
1/2 tsp salt
1 tsp cinnamon
2 tsp allspice
1/2 tsp nutmeg
Mix ins:
60g currants, sultanas, raisins or choc chips, optional
Crosses:
2 tbsp flour
2 tbsp water
Glaze:
1/4 cup sugar free maple syrup
Here's how to make it:
Stir 1 tbsp of the sugar into the warm milk, then sprinkle over the yeast. Let it sit for 30 secs then stir. Set aside for 10 mins to proof. Bubbles will appear when the yeast has activated.
Whisk the butter and egg together in a large bowl, then mix in the yeast/milk. Sift all dry ingredients into the bowl and stir to combine.
Fold in mix-ins. Turn dough out onto a lightly floured bench and knead for 10 mins until smooth (add extra flour if needed, mixture shouldn't be sticky).
Place dough in a lightly greased bowl, cover and set aside in a warm place to proof for 1 hour or until it doubles in size.
Portion dough into 9-12 pieces, roll into balls and place onto a lined baking tin close together. Set aside for another 30-45 mins until they double in size.
Preheat oven to 200 Celsius. Mix 'cross' ingredients together in a bowl until it forms a thick paste and pipe over the buns.
Place the buns in the oven for 15 mins.
While they are baking, heat the maple syrup in a saucepan or microwave until it reduces. Brush glaze over cooked buns & enjoy!
THRIVE is packed FULL of nutrients, vitamins and minerals & functional ingredients to promote a thriving body. We have formulated the perfect plant-based protein (pea and rice) with Magnesium, Organic Maca, Siberian Ginseng, Digestive Enzymes, Psyllium Husk and more to provide you with increased energy, mental performance, immune protection and extra tummy love.
Shop our THRIVE range today!