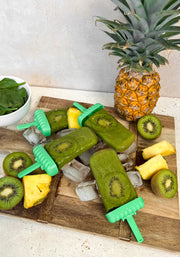 Healthy Popsicles with Kiwi & Pineapple
Mar 27, 2023
Fuel your body with nutrient-packed goodness thanks to these super green popsicles! Made with a delicious pineapple flavoured greens powder and loaded with vitamin-rich fruits like kiwifruit and pineapple, these icy treats are the perfect way to cool down and nourish your body. Not only do they taste amazing, but they're also loaded with antioxidants, anti-inflammatory compounds, and other health-boosting ingredients that help you feel your best!
Here's what you will need:
Here's how to make it:
Add all ingredients to a food processor or blender and blend until smooth.

Cut the kiwi into very thin slices and stick them to the insides of the popsicle moulds
Carefully add the mixture into the popsicle moulds
Enjoy!
It's time to harness the full power of our Gorgeous Greens blend! Created using only the finest alkaline superfoods, this once-daily nutrient hit is designed to support greater wellness and provide your body with nature's daily dose of vitamins, minerals, and antioxidants. Plus, it's a great source of fibre! Our Gorgeous Greens are also vegan friendly, gluten-free, dairy-free, refined sugar-free & formulated with all-natural ingredients.