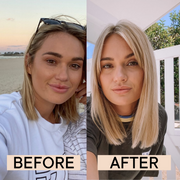 Georgie took our Collagen Beauty Elixir every day for 3 months and the results are incredible
Sep 23, 2021
Did you know that 75% of our body is made up of collagen? 
Did you also know that once we reach our mid 20's our collagen production begins to degenerate?
If you want to reduce early signs of aging, keep reading as we give you the full GLOW DOWN on our Collagen Beauty Elixir range and show you the real results from implementing our Collagen range into your beauty routine!
Our powerhouse co-founder Georgie Stevenson took our Collagen Beauty Elixir every day for 3 months and her results were incredible! The main noticeable differences Georgie noticed were:
Her hair grew longer, thicker & healthier!

She noticed a massive difference in her nail growth! Almost doubling in strength and her nail growth rate dramatically increased!

Last but not least, you may have noticed Georgie's GLOWING skin! Her skin appears more radiant, youthful and smoothe!
Do you want to receive results just like Georgie did? Read on... 
Our Collagen Beauty Elixir is available in three unique formulas - Pure Collagen, Pine Coconut Collagen & Pine Coconut Vegan Booster, giving you three different ways to add our beauty supplement into your daily routine! Formulated with the common goal to enrich your body's natural collagen production, we can guarantee our Collagen Beauty Elixir will help you create a healthy glow from the inside out, just like it did for Georgie!
Unsure on what formula will suit your lifestyle best? Get to know the effectiveness of each of our formulas now! 👇🏼
If you are looking for a simple but effective way to help your body absorb collagen faster, then our Pure Collagen Beauty Elixir is our top pick for you!
Made from 100% Pure Hydrolysed Bovine Collagen Peptides, not only will our Pure Collagen support a range of health benefits such as fighting visible signs of aging, balancing your hormone levels & so much more! Our Pure Collagen is bioavailable - meaning your body will digest & absorb our beauty supplement quickly! Simply add our tasteless formula into your morning coffee, smoothie or any recipe and stay tuned as the results appear. Read up on our Pure Collagen Beauty Elixir now!
Not feeling creative in the kitchen and want to get your daily dose of collagen in a few simple sips? Our Pine Coconut Collagen Beauty Elixir is the tropical refreshment you never knew you needed until now!
Our Pine Coconut Collagen Beauty Elixir formula is here to give your hair, nails, skin & gut health the love it deserves! We've specifically added in additional vitamins and minerals such as zinc, organic camu camu fruit & more to provide your body with an additional source of vitamin c! Does our refreshing collagen blend sound like the right fit for you? Read up on our Pine Coconut Collagen Beauty Elixir now!

Last but definitely not least, our co-founders were determined to create a collagen formula that is friendly for our vegan community…
If you live a plant based lifestyle & are wanting to BOOST your body's natural collagen production cycle, then our Pine Coconut Vegan Booster is for you! Our Pine Coconut Vegan Booster has been formulated with essential amino acids, vitamins & minerals designed to give you an extra source of fibre, antioxidants & vitamin c! Read up on our Pine Coconut Vegan Booster now! 
Did you know that 100% of women who reviewed our Collagen Beauty Elixir said that they would recommend our Collagen Beauty Elixir Range to their loved ones? All of our reviewers noted that they have seen a noticeable improvement in either their hair, nails, skin & overall health! Want to see for yourself? Check out our reviews now!