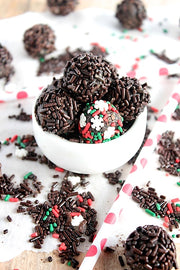 Chocolate Covered Rum Balls
Dec 21, 2020
The perfect accompaniment to your Christmas feast! These delightful bite sized chocolate covered rum balls created by @emsswanson are 'subtly sweet, seriously chocolatey, super fudgy and infused with belly warming rum'.
Here's what you'll need:
For the rum balls:
6 lge (juicy) medjool dates, pitted
1 C almonds
1 Tbsp cacao
1 tsp vanilla essence
1/2 tsp rum extract - or a shot or 2 of the real deal
Pinch salt
1 scp NH pure collagen - for great for hair, skin, nails & gut health .
 Coating:
1 C dark choc
1/4 tsp - optional but that hint of espresso is SO GOOD! .
1 Tbsp coconut oil - optional 
 Festive sprinkles! optional but not really because, SPRINKLES!!!!! 
Here's how to make it:
Toast almonds for 5-7 mins - optional but recommended.
Place almonds in food processor or blender & process to a crumb (think chunkier than almond meal) - you want to keep a little texture.
Add dates, vanilla, rum, salt & any extras - process to form a sticky dough.
Roll into balls (I do bites approx 1 Tbsp each)  & place on a lined baking sheet.
Melt choc, coco oil & coffee.
Dip each ball in melted choc, add sprinkles (optional).
Devour.
The Pure Collagen Beauty Elixir enriches your body's collagen supply, and will help you create a healthy glow from the inside out! Formulated with pure hydrolysed bovine collagen peptides to help your body digest and absorb collagen faster. Benefits include improved bone & joint health, gut healing, fights visible signs of ageing & hormonal balance.
Shop our Collagen Beauty Elixir range today!