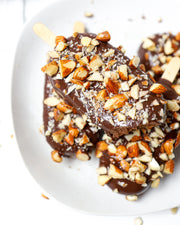 Choc Ripple Ice Creams
Jan 24, 2021
Choc Magnums…but make them healthy! We are drooling over these choc ripple ice creams which feature our NH Choc Swirl THRIVE Plant Protein. The perfect sweet dessert to cool down this summer. Blend, freeze and devour in the same day. Created by the lovely @sammybeasley1.
Makes 5+ ice creams
Here's what you'll need:
1 chilled can coconut milk 400ml (only the thick part from the can)⠀

¼ cup maple syrup⠀

¼ cup choc hazelnut spread⠀

1 Tbs cacao powder⠀

1 tsp vanilla essence⠀

Pinch Salt

Peanut butter (optional)
Topping⠀

200g dark chocolate⠀

1/2 cup chopped/roasted almonds⠀

 
Here's how to make it:
Add all ingredients (not topping) to a food processor and blend until the mixture is smooth and free of lumps. ⠀

Pour the mixture into individual silicone ice-cream moulds, insert the wooden popsicle sticks into each mould, and even out the chocolate mixture and freeze for 2 hours to set.** Optional (add an extra/thin layer of peanut butter to the mould for an extra peanut butter hit).⠀

Once set, pop the ice creams out of the moulds and melt your chocolate and pour into a shallow bowl or tall glass. ⠀

Working quickly, spoon the chocolate over each ice cream working one at a time. ⠀

Once fully coated, place each ice-cream onto a lined tray with baking paper. Quickly sprinkle with chopped almonds and pop them back in the freezer once you have finished. Set for 60 minutes. Defrost for 10 minutes once you are ready to eat! Enjoy!⠀
THRIVE is packed FULL of nutrients, vitamins and minerals & functional ingredients to promote a thriving body. We have formulated the perfect plant-based protein (pea and rice) with Magnesium, Organic Maca, Siberian Ginseng, Digestive Enzymes, Psyllium Husk and more to provide you with increased energy, mental performance, immune protection and extra tummy love.
Shop our THRIVE range today!