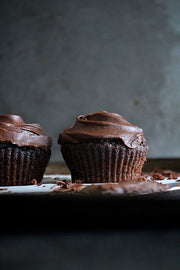 Choc Fudge Protein Muffins for Two (or just you)
Jan 24, 2021
Looking for a healthier alternative to shop bought muffins? Then try these decadent Choc Fudge Protein Muffins created by @emsswanston. A moist, soft chocolatey base covered in a rich, decadent, smooth frosting. Are you drooling yet, we most certainly are!
Makes 1 jumbo, 2 lge or 4 minis
HERE'S WHAT YOU NEED:
1 egg white – or 1/2 Tbsp flaxmeal
1 tsp vanilla
2 Tbsp almond butter
1 Tbsp almond milk
1 Tbsp vanilla yoghurt
2 Tbsp almond meal
1 Tbsp granulated sweetener of choice
1 (heaping) Tbsp cacao
1 tsp instant coffee - regular or decaf
Pch of cinnamon
1/2 heaping tsp baking pwd
1/4 tsp baking soda
Pch salt
Frosting
2 Tbsp chocolate hazelnut butter
1 Tbsp sugar free choc creamer - or cacao
Pch salt
Enough almond milk to make it spreadable to desired consistency
HERE'S HOW TO MAKE IT:
Mix muffin ingredients.
Bake @175'C/ 350'C for 10-12 mins.
Cool.
Mix frosting.
Slather cupcakes.
Devour.
THRIVE is packed FULL of nutrients, vitamins and minerals & functional ingredients to promote a thriving body. We have formulated the perfect plant-based protein (pea and rice) with Magnesium, Organic Maca, Siberian Ginseng, Digestive Enzymes, Psyllium Husk and more to provide you with increased energy, mental performance, immune protection and extra tummy love.
Shop our THRIVE range today!