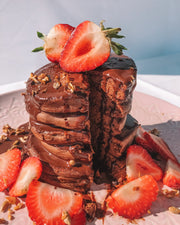 Vegan, GF Chocolate Buckwheat Pancakes
Oct 30, 2020
Hold up gang! We just found the perfect Vegan and Gluten Free Pancake recipe (anyone else drooling). Did we mention they're chocolate, an absolute must-try! Thick, fluffy, tender and the perfect way to start your day. Created by the amazing @geneschesser.
Here's what you'll need:
3/4 cup buckwheat flour: alternatively you could use GF oats blended up, or any other flour you prefer.
1/4 cup cocoa powder
2 tsp baking powder
Pinch of Salt
1 banana
1 tsp vanilla extract
1/2 tbsp ground flax seeds
1 tsp apple cider vinegar
1 cup plant milk: (almond milk)
Few tbsp vegan butter: Or coconut oil, this is simply for the cooking of the pancakes.
Here's how to make it:
Add in the milk, banana, vanilla, apple cider vinegar and flax meal into a blender and mix until smooth.

Next add in your flour, cocoa powder, protein, baking powder and salt. Blend until all mixed through.

Using a pan over medium heat, grease with vegan butter or coconut oil and pour mixture into circles.

Flip once little bubbles form on top or for about 2 minutes each side.

Plate and top with your favourite fruit, vegan coconut yoghurt or some melted dark chocolate!
THRIVE is packed FULL of nutrients, vitamins and minerals & functional ingredients to promote a thriving body. We have formulated the perfect plant-based protein (pea and rice) with Magnesium, Organic Maca, Siberian Ginseng, Digestive Enzymes, Psyllium Husk and more to provide you with increased energy, mental performance, immune protection and extra tummy love.

Shop our THRIVE range today!