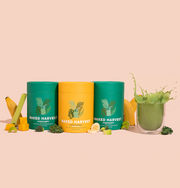 Staying on Track & Summer Cravings
Nov 07, 2022
The days are getting longer and the temperature is getting warmer, which means Summer is just around the corner! It's no secret that we all love a cheeky summer icy treat and we are here to show you that you can stay on track with your goals this summer using NH Supplements. 
When the temperature is heating up outside, nothing cools you down better than an icy treat.
Store bought ice-creams are often packed with sugar and artificial ingredients, the things that we like to avoid at NH and we don't need in our healthy Hot Girl Summer routine. Instead, this Summer, let's focus on getting in our nutrients whilst still enjoying a delicious treat. Making your own treats at home can help you stay on track with your health goals this Summer.
Our NH Gorgeous Greens are designed to help you hit your nutrient targets without compromising on flavour. Supercharged with 6 green superfoods (organic spinach, organic wheatgrass, organic broccoli, organic kale, alfalfa and celery), as well as extra vitamins, minerals and antioxidants. And that's not all, our blend also contains fibre to help support gut health, ginger to support digestion, and additional immune boosting properties. 
Imagine enjoying an ice cream that benefits your health while simultaneously getting 1 serve of veggies in.
Our in-house Nutritionist has come up with an easy to make, minimal ingredient delicious ice-cream that features our newest Gorgeous Greens, Banana Lolly, to help satisfy your sweet cravings. 
Check out our delicious Banana Lolly Greens Ice-cream ⤵
Here's what you need:
1 cup of Paul's Pure Cream (or coconut cream for a dairy free option)
1 cup of Frozen Banana
1 egg yolks
1 serving of Banana Lolly Gorgeous Greens
1 pinch of salt 
Here's how to make it:
Combine all ingredients in a blender and make sure to pulse the blender so it's fluffy

Place in the freezer in a glass container and wait 4-6 hours

Serve ice cream and enjoy!
This ice cream is full of nutrients, tastes amazing, and is free of preservatives, added sugar and other nasties that are usually in store bought ice cream! Your health and well-being has never tasted so good.
Gorgeous Greens is also available in two other delicious flavours, Mango Magic, Very Vanilla & Banana Lolly.
All flavours of our Gorgeous Greens taste amazing with water or in smoothies & smoothie bowls - the options are endless. 
Click here to get your Gorgeous Greens.