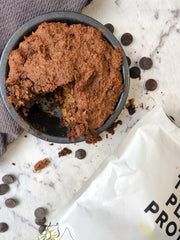 Single Serve Espresso Brownie Cookie Dish
Jan 31, 2020
The protein cookie + brownie dish that your dessert dreams are made of! Sarah from @scoopitup_ has created this recipe using our THRIVE plant protein in Vanilla Shortbread. It's packed FULL of beneficial vitamins, minerals and nutrients to promote a thriving body - plus, it's absolutely delicious and baking friendly! 
This recipe is vegan friendly, refined sugar free, gluten free and dairy free (if you opt for dairy free choc chips)! 
WHAT YOU'LL NEED: 
cookie
3 tbsp almond meal
1 tbsp buckwheat flour
1 tsp vanilla
1 tsp maca
1 tsp baking soda
lots of salt
handful choc chips
1 tsp tahini
1 tsp cashew butter
1 tsp natural maple syrup
almond milk to thicken 
1 tsp vanilla protein powder (optional) 
Brownie
1 tbsp cacao powder
2 tbsp coconut flour
1/3 cup choc espresso almond milk 
1 tsp vanilla
1 tsp baking soda
1 tbsp almond butter
1 tbsp sweetener 
handful choc chips

 HOW TO MAKE IT:
Preheat oven to 175 degrees.

Combine cookie ingredients, adding almond milk if needed till doughy and press into lined baking tin.

Bake for 8 minutes.

Mix brownie ingredients together till wet.

Pour and smoothen over cookie and place back in oven for 10 minutes or until cooked through.

Allow to cool then serve when warm and gooey!
THRIVE is packed FULL of nutrients, vitamins and minerals & functional ingredients to promote a thriving body. We have formulated the perfect plant based protein (pea and rice) with Magnesium, Organic Maca, Siberian Ginseng, Digestive Enzymes, Psyllium Husk and more to provide you with increased energy, mental performance, immune protection and extra tummy love.
Shop our THRIVE range today!