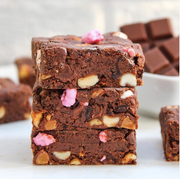 Rocky Road Protein Bars
Feb 15, 2021
Rocky Road Protein Bars…a healthier alternative to store bought rocky rocks and protein bars which are full of artificial sweeteners and nasties. These rocky road protein bars made by @betterbeingsteph are high in protein and just as delicious (if not more!). Plus they're gluten free and vegan.
Here's what you'll need:
50g smooth nut butter

20g sticky sweetener of choice 
10g cacao powder


20-30ml almond milk (only add as needed to bind)

50g inclusions of choice – marshmallows, choc chips, nuts, dried fruit, lollies

Here's how to make it:
In a mixing bowl, add your dry ingredients and stir to combine.

Pour in the almond milk and nut butter, and continue stirring.

Fold through the inclusions.

Using your hands, start to knead the mixture into a dough, and using a rolling pin, roll flat onto a piece of baking paper.

Place your protein dough in the freezer to set for up to an hour, before cutting into 5 bars. Keep chilled.
THRIVE is packed FULL of nutrients, vitamins and minerals & functional ingredients to promote a thriving body. We have formulated the perfect plant-based protein (pea and rice) with Magnesium, Organic Maca, Siberian Ginseng, Digestive Enzymes, Psyllium Husk and more to provide you with increased energy, mental performance, immune protection and extra tummy love.
Shop our THRIVE range today!