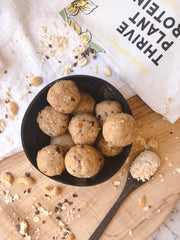 Roasted Cashew Choc Chip Protein Balls
Oct 28, 2019
Say hello to the perfect protein filled, bite sized snack. This epic choc & nut flavour combo has the whole team here at Naked Harvest absolutely drooling! And of course, it is made with none other than our THRIVE Vanilla Shortbread Plant Protein. 
Recipe created by Sarah Cooper from @scoopitup_ check her out on Instagram!
WHAT YOU WILL NEED:
1/2 cup almond meal

1/4 cup oats

2 serves THRIVE Vanilla Shortbread Plant Protein by Naked Harvest

Pinch Salt

Pinch Vanilla

Pinch Cinnamon 

1/2 cup Cacao nibs

2 tbsp maple syrup 

2 tbsp coconut oil

1 tbsp almond butter 

1/2 cup roasted cashews 
HERE'S HOW TO MAKE IT:
Blend all ingredients in blender except for cacao nibs. It should be quite doughy if it is too dry add a bit of dairy-free milk or more coconut oil 

Mix the cacao nibs through the mixture with your hands once the dough has formed (if you blend they will get crushed up!) 

Roll into desired size balls and set in freezer (and store there too!) 
Our THRIVE vegan protein range has been specifically formulated to provide you with not only an essential macronutrient (protein) to help build muscle, repair tissue and create enzymes and hormones... but we have added in beneficial nutrients, superfoods and minerals to provide you with:
extra tummy love 

increased energy 

hormone balance 

mental performance &

immune protection 
We've gone the extra mile to help your body thrive! Shop the range here.