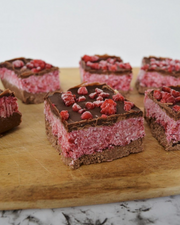 Raspberry Bounty Bars
Jul 03, 2020
Well, this tickles our fancy! Check it out #NHgang, our girl @thecleantreatlady created this Rasberry Bounty Bar recipe using our THRIVE Plant Protein. 
This recipe is vegan, gluten-free & dairy-free. Enjoy! 
Ingredients 

Base:
2/3 almond meal
1/3 @nakedharvestsupplements THRIVE Peanut Butter Brownie Plant Protein
2 tbsp maple syrup
2 tbsp melted coconut oil

Filling:
1 cup frozen raspberries
1 tbsp rice malt syrup
2/3 desiccated coconut

Top:
1/4 cup chocolate of choice
1 tsp coconut oil
Crumbled frozen raspberries
How To Make It:
Mix all base ingredients into a bowl and press down into small tray/container (serves 6).
In a food processor, blend all filling ingredients until combined and press down on top of the base!
Melt the chocolate and coconut oil together, pour over your filling and quickly sprinkle crumbed frozen raspberries on top.
THRIVE is packed FULL of nutrients, vitamins and minerals & functional ingredients to promote a thriving body. We have formulated the perfect plant-based protein (pea and rice) with Magnesium, Organic Maca, Siberian Ginseng, Digestive Enzymes, Psyllium Husk and more to provide you with increased energy, mental performance, immune protection and extra tummy love.
Shop our THRIVE range today!