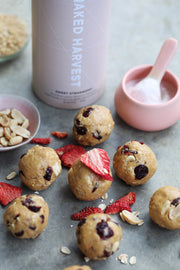 Peanut Butter & Jelly Pre-workout Protein Balls
Dec 02, 2020
Listen up #NHgang. Always wanted to know whether you could take your pre-workout another way? Well, the lovely @pheebsfoods has found a way. These peanut butter and jelly pre-workout protein balls are the perfect pre-workout snack to get you through your workout. Balanced ingredients so there's a healthy mix of carbs, fats and protein with a hit of 100% natural energy. Take 1-2 balls 30 minutes to an hour before your workout for optimal performance.
Per ball: 116 calories, 4.4g fat, 6.1g protein, and 17.8g carbs
Here's what you'll need:
1/2 cup rolled oats
¼ cup peanut butter
¼ cup rice malt syrup
3tbsp roasted peanuts
3 tbsp dried cranberries
Here's how to make it:
Place all ingredients apart from the nuts and cranberries into a food processor and blend until sticky
Add in the nuts and cranberries and pulse a few times to combine but so the mix is still chunky
Roll out 8 balls of the mixture and store it in the fridge!
Our all-natural pre-workout blend is designed to enhance your performance and give you that ultimate energy boost, naturally. An EPIC taste, no crash and an effective fat burning component. What more could you want? Our natural pre-workout blend is vegan, all-natural, gluten-free and free from refined sugars.
Shop
our Natural Pre-workout range today!