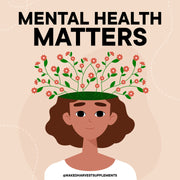 Mental Health Matters
Oct 09, 2020
Here at Naked Harvest, we believe taking care of your mental health is equally as important as taking care of your body. Let's chat for a moment. When was the last time you checked in, really sat down with yourself and reflected on how you were feeling? It's important to understand that anyone can experience a mental illness, it's actually way more common than you'd think. 1 in 5 Australians are affected by mental illness each year, yet don't seek help due to stigma. 
So what exactly classifies as mental health?
The world health organization defines mental health as 'a state of well-being in which every individual realises his or her own potential, can cope with the normal stresses of life, can work productively and fruitfully, and is able to make a contribution to her or his community.' Mental wellbeing allows you to deal with the ups and downs of life and cope with them in a psychologically and emotionally healthy way. 
Due to the ongoing effects of COVID, this year has been a rollercoaster for most of us. In such times of uncertainty, words and emotions like fear, worry and stress may bubble up. This is totally normal, but there's a few things we can incorporate in our daily lives to improve our mental state. 
Here are 4 simple ways to cultivate better mental wellness…
Like the advocates we are for getting sweaty and moving your body in order to keep your body healthy and happy, there are some other things you can do to promote your mental health. 
1.   Reflect on your daily essentials 
You may think it's silly, but reflecting on your daily routine can have a huge effect on your mental state. Are you exercising regularly, eating a balanced diet, drinking plenty of water, getting enough vitamin D and sleep? Starting here is a great way to see if your body is receiving the necessary essentials to survive and thrive. 
2.   Make time for yourself 
I like to call this one,
Me, myself and I
. That's right gang, take some time out to spend time with yourself. I know this can be a little scary sometimes, but this gives you time to rest, relax and recharge. Do something that makes you feel good, whether that be reading a book with a cuppa, watching your favourite tv show or going for a facial. 
3.   Find your purpose and build meaningful relationships
This one is a little different. Have you ever reflected upon what your drive and purpose are? Feeling a sense of purpose can be one of the most integral elements for positive mental wellbeing. It can help you feel motivated and build your self-esteem. It's important to check in with yourself, but it's also just as important to check in with those around you. Stay connected with people you care for and develop and nurture your relationships. Our need for constant social interaction is literally wired into our DNA. More so, building meaningful relationships stimulates the feel-good chemical in our brains, boosting your mood. Foster your relationships and strengthen your social networks for the times when you might need a little extra support. 
4.   Go offline and get outside
This one might be the trickiest of all with our virtually connected work and community. It's been shown by a magnitude of studies that spending time in nature is beneficial for your mental health. Why not start with a 30-minute walk around the block. It's shown to help build and strengthen the immune system and lower blood pressure, ultimately improving your mood and reducing stress. There are so many ways to enjoy being in nature and outdoors – walk along the coastline or your local bushland, do an outdoor workout (are you part of our
NH FIT
community? jump on over to @nhfit_ on Instagram to find out more), mountain biking, kayaking or even go for a picnic with your best gal pals. The choice is yours!
Mental health matters gang, let's start putting our mental health FIRST.
If you or someone you know would like to talk to someone, here are some National 24/7 Crisis Counselling Services you can reach out to: 

For more information check out https://lookafteryourmentalhealthaustralia.org.au 

Lifeline
13 11 14 – 24 hours a day
7 days a week

Lifeline Text
0477 13 11 14 – 6pm to midnight (AEDT)
7 nights a week

Beyond Blue
1300 22 4636
www.beyondblue.org.au  

Butterfly Foundation National Helpline
1800 334 673

Carer Support
1800 242 636 or 1300 554 660

SANE Australia Help Centre
1800 187 263
www.sane.org

Suicide Call Back Service
1300 659 467

Kids Helpline
1800 55 1800
www.kidshelpline.com.au

MensLine Australia
1300 789 978

QLife
1800 184 527

Open Arms – Veterans and Families Counselling
1800 011 046